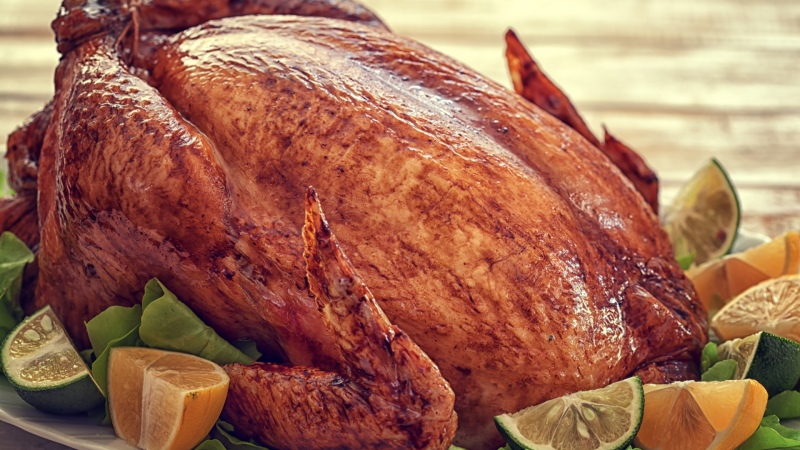 Thanksgiving 2021
We are currently taking orders for hams, whole turkeys, smoked turkeys, turduckens and other turkey creations (breasts, rolls, etc).
As of Thursday, October 6 at 6 pm, we will no longer be taking orders for hams and whole, fresh turkeys — but you can get one by coming in to the store. Smoked Turkeys, turduckens and other turkey creations will still need to be pre-ordered. You can also still place an order for any other product – steaks, roasts, etc.
Free-range Hutterite Turkeys – $3.49/lb


Average size 18-20 lbs; sorry, we cannot guarantee sizes.

If you are looking for something smaller, we can also do half turkeys, turkey rolls/stuffed rolls, breast roasts, breast/thigh roasts, stuffed, or any other turkey creation — pre-order yours today!
Sunworks Organic Turkeys – $5.99/lb


These are heritage breed Orlopp Bronze turkeys that are raised outside in movable shelters that are moved every day onto fresh grass. They are given lots of room to move around and express their natural behaviours, such as eating grass, scratching in the dirt and eating as many bugs, grubs and worms as they can find.
Smoked turkeys – $4.54 /lb


Just reheat and eat!

Average size 16-18 lbs

Turducken – $180 each


It's

a deboned chicken stuffed into a deboned duck, further stuffed into a deboned turkey — approx. 22 lbs of boneless meat! It also comes

loaded with stuffing mix, a bacon layer and rub/honey options. Can feed 25-30 people.

Sorry, no half/smaller options.


Smoked Hams

Bone-in smoked ham – $3.49/lb, cut to size. Please specify between the shank or butt portion. We recommend ordering 1 lb per person.
Boneless smoked ham – $4.54/lb

, cut to size. We recommend ordering ½ lb per person.
Not cooking a traditional this year due to COVID?…Any other orders in preparation are always welcome…prime rib, lamb, pork crown, or anything else our heart desires.
To order, please call the shop at 780.469.DEAL (3325). Cut off is October 6th at 6pm.
Pick-up dates
Turkeys & hams – October 7, 8, 9
Turduckens – October 8, 9 ONLY
Real Deal Hours:
Tuesday – Friday: 10 am to 6 pm
Saturday: 10 am to 5 pm
Sun – Monday: CLOSED
There will be NO CURBSIDE/DELIVERY on October 8th and 9th. Should you require curbside pickup, please call to make arrangements with Alicia for October 7th ONLY.
Please remember: Masks are required in the store at all times. Please, only four (4) people in the store at one time. When lining up outside, be sure to follow proper physical distancing protocols. Thank you!!
Please note: The photos below were taken pre-COVID.
MASKS, MASKS, MASKS!! Masks/facial coverings are currently required in our store at all times. We are a small space and continue to practice social distancing with 4 customers in store at a time.
Please be respectful of others as well as our business.
If you are EXEMPT from wearing a mask/facial covering, please be prepared to present a valid exemption letter along with matching photo ID in store upon request. Alternatively, we offer curbside as well as delivery options for all pre-orders placed (minimum 1 business day) if you prefer.
Please be kind and respectful to everyone involved. Abuse/comments towards our staff will NOT be tolerated.