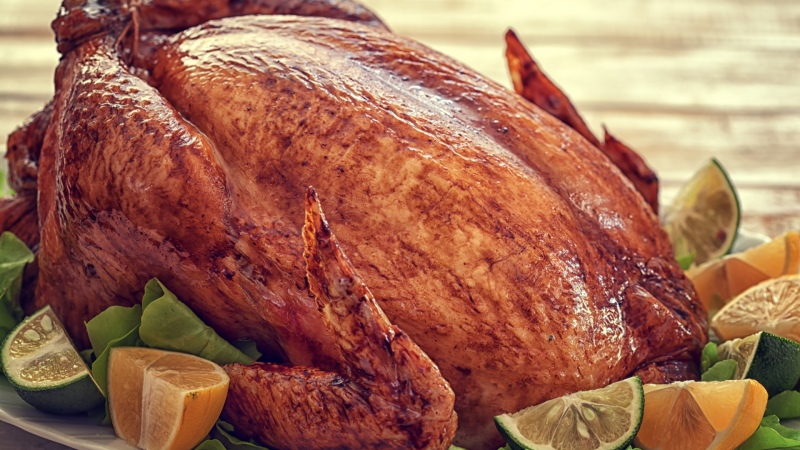 Thanksgiving 2020
We are currently taking orders for hams, whole turkeys, smoked turkeys, turduckens and other turkey creations (breasts, rolls, etc).
As of Thursday, October 8, we will no longer be taking orders for hams and whole, fresh turkeys — but you can get one by coming in to the store. Smoked Turkeys, turduckens and other turkey creations will still need to be pre-ordered. You can also still place an order for any other product – steaks, roasts, etc.
Free-range Hutterite Turkeys – $3.49/lb


Average size 18-20 lbs; sorry, we cannot guarantee sizes.

If you are looking for something smaller, we can also do half turkeys, turkey rolls/stuffed rolls, breast roasts, breast/thigh roasts, stuffed, or any other turkey creation — pre-order yours today!
Smoked turkeys – $4.54 /lb


Just reheat and eat!

Average size 16-18 lbs

Turducken – $180 each


It's

a deboned chicken stuffed into a deboned duck, further stuffed into a deboned turkey — approx. 22 lbs of boneless meat! It also comes

loaded with stuffing mix, a bacon layer and rub/honey options. Can feed 25-30 people.

Sorry, no half/smaller options.


Smoked Hams

Bone-in smoked ham – $3.49/lb, cut to size. Please specify between the shank or butt portion. We recommend ordering 1 lb per person.
Boneless smoked ham – $4.54/lb, cut to size. We recommend ordering ½ lb per person.
Not cooking a traditional this year due to COVID?…Any other orders in preparation are always welcome…prime rib, lamb, pork crown, or anything else our heart desires.
To order, please call the shop at 780.469.DEAL (3325).

Pick-up dates
Turkeys & hams – October 8, 9, 10
Turduckens – October 9, 10 ONLY
***Curbside pickup and delivery will not be available for October 8, 9 and 10.
Hours: 11 am to 5 pm
Please remember: Masks are required in the store at all times. Please, only four (4) people in the store at one time. When lining up outside, be sure to follow proper physical distancing protocols. Thank you!!